Blast # 22
Whether you tuned into the Top 40 potpourri of WSAI, were an early adopter of influential rock station WEBN or dug the soulful songs spun on WCIN, popular music was the soundtrack of our high school years. I don't recall if Cincinnati had a country station then, but in those days, hits from the likes of Johnny Cash, Charlie Rich, Jeannie C. Riley and the Statler Brothers easily resided on Top 40 stations, rubbing shoulders with pop, rock and Motown tunes.
Evidence of music's significance came to our ears during our junior year, when the morning announcements transitioned from school staff to fellow students Dave Medkeff (Class of '70) and our classmate Chris Press. Almost as soon as Chris and Dave took over the mic, popular music accompanied them sharing news about the next Aiken game or club activity. The following year, when Mary Jo Campbell and I signed on as morning announcers, I started to spin tunes that students could hear in the courtyard from 8:00 am until homeroom started.
New evidence of music's continuing impact will be revealed at Aiken's 50th Anniversary Reunion on Nov. 6 at Centennial Barn in Cincinnati, when we enjoy a playlist of tunes from our high school years, chosen by those who attend.
During high school years, if your parents were open minded, you were lucky or hard working enough to have some discretionary income to play with and you or a friend had access to a car, concerts became gateways to our independence. In an informal and far-from-statistically significant poll, about half of our classmates didn't attend concerts during our Aiken years, but it seems the rest of us made up for their absence.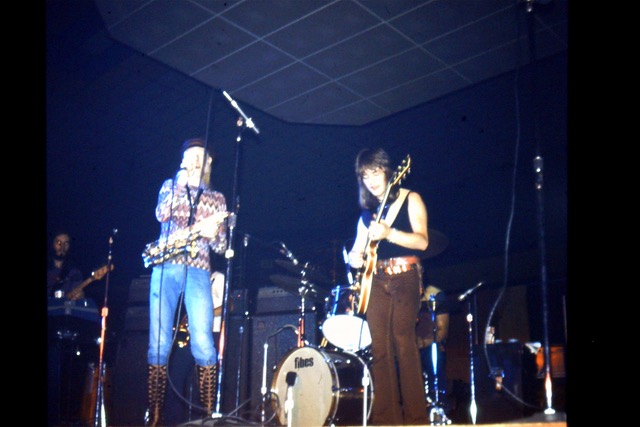 Edgar Winter and Rick Derringer rocked Hara Arena, and a young Keith Brown was there to capture this image.
My first show happened in junior high years when WSAI sponsored a free show by one-hit-wonder the Blues Magoos at the most unlikely of venues: the garden department at Shillito's Western Hills store. My first proper concert was Peter, Paul & Mary at Music Hall, and my first show without a parent attending was at that same venue, when Arlo Guthrie headlined on a night that also featured local band Sacred Mushroom and a stand-up set by political gadfly Paul Krassner.
Kristy Estep (McKenzie) and Laura Howard (Scudder) started early, too, each attending their first concerts during junior high. Both of their inaugural shows were at Cincinnati Gardens, but while Laura ventured out for the Monkees, Kristy's November 1965 show by the Rolling Stones was a consolation prize.
"The real story behind it is that I wanted to see the Beatles, but my parents thought they were too wild," says Kristy. "The Rolling Stones were coming into town and (future Aiken classmate) Sally Georgenson was going so my parents said yes." Kristy notes the irony that her parent found the Stones a safer bet than the Beatles, but she would not attend her next show until college years. "My folks were not really into all of that; not that they didn't approve, just didn't see the need."
Incredibly, Laura's mother let her and sister Linda "take the bus with the girl next door" to the Gardens when they saw the Prefab Four. "To think about letting your kid take a bus to that area now would be incomprehensible!"
Sandy Benninghoff (Sweeny) saw the Monkees at Cincinnati Gardens, too, but her show happened years later than Laura's when we were in high school. "My youngest sister was 8 and she won tickets in a raffle at a store down the street from us." Sandy and her other sister, Gayle, "went to keep an eye on our little sister, but I did enjoy the concert, even with all the screaming girls!"
Chris Press and Mary Wesseler (Perkins) were both active concert goers in those days. In addition to the aforementioned Guthrie, Chris recalls shows by Janis Joplin, Jimi Hendrix, and Eric Clapton, while Mary enjoyed the likes of Johnny Winter, the Amboy Dukes and the MC5. Among her high school-era concerts, she gives a big thumbs up for the night she saw Carlos Santana lead Santana at Ludlow Garage. "I sat on the concrete floor directly beneath him and could watch as those incredible fingers played the hell out of that guitar," she recalls.
Bill Kirkwood says the Cincinnati Pop Festival on June 13, 1970 "at the historic close of Crosley Field was a great way to close out our Junior Year and prepare us for our last year at Aiken High School. I attended along with Chris Press and I believe Danny Radin." Danny, by the way isn't certain he was there, nor can Bill swear to it that Danny was. That's the tricky thing about time, eh?
"In retrospect, what a concert, given the impact many of these groups would have in the following years," Bill adds. "Michigan bands were heavily represented—Bob Seger, Grand Funk Railroad, Alice Cooper, The Stooges [on the brink of iconic status still revered today]—and then Mountain, Traffic with Steve Winwood and Ten Years After. What an odd way to close out Crosley in staid, conservative Cincinnati, youthful hormones going crazy. Ah yes, the memories are alive, but the hormones have settled down quite a bit."
And, believe it or not, you can watch highlights of that concert by clicking here. Video quality is about as bad as it gets, but the audio, recorded live over 50 years ago, is not too shabby!

This iconic image of Iggy Pop was shot by rock photographer Tom Copi at the Cincinnati Pop Festival at Crosley field, which Bill Kirkwood and friends attended in the summer of '70.
Bill also recalls Halloween night of 1969, when he, Bob Oikawa and I were among those who went together to see Blood, Sweat & Tears at U.C. Armory Fieldhouse, during the reign of their hugely popular second album. We were miffed to find that while the stage was set up in front of one of the baskets, we were seated in a corner behind that basket. They wouldn't have been bad seats if the Bearcats had been playing, but the only band member we had a good view of for most of the show was drummer and founding member Bobby Colomby, who these days is kind enough to occasionally participate in classes I lead at Los Angeles College of Music.
Bill, Bob, and I were among the ones who were planning to see the Doors play Music Hall, only to find that Jim Morrison's arrest for indecent exposure in Miami, Fla., led Cincinnati to become the first of several heartland cities to cancel the band's dates. Chris had been interested, too, but "my parents inserted themselves between me and the ticket window for that one. There was no way they were going to let me attend, and that was before he dropped trou."
Compared to most of us, Kermit Kinne and Keith Brown were the kings of concerts during our Aiken years. Kermit lived close to Ludlow Garage and took advantage of the proximity, with the Allman Brothers Band, James Gang, Roland Kirk, Taj Mahal, Ten Years After, Johnny Winters and previously mentioned Santana among the acts he saw there. Kerm said he usually paid his way, but he also had an in: "A friend of mine's older brother sometimes worked the door and would somehow get me into the bigger shows; he liked my older sister."
Keith frequented Cincinnati Gardens, where he saw Procol Harum, the Byrds, James Gang, Grand Funk Railroad, Three Dog Night, Moody Blues, Van Morrison and Emerson, Lake & Palmer. He also saw Chicago and Richie Havens at U.C. Fieldhouse and Edgar Winter Group at Hara Arena in Dayton, and while he knows he caught Silver Apples and Jean-Luc Ponty, he isn't as sure about where, ticking off Reflections and Ludlow Garage as possible venues. Keith also saw shows at the immaculate Music Hall: Derek and the Dominos, Big Brother and the Holding Company, Mountain, Carole King and Elton John.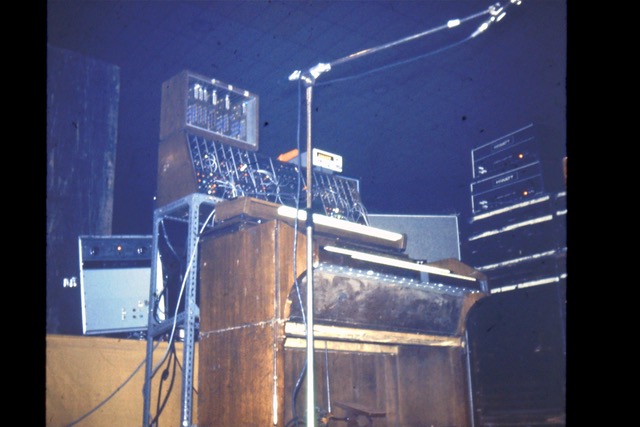 Keith Emerson's keyboards, shot by Keith Brown, before Emerson, Lake and Palmer took the stage at Cincinnati Gardens.
The Elton show was the singer's first major U.S. tour since "Your Song" became such a huge hit and I was there, too. I had a really good seat in the mezzanine, but Keith was even better situated, on the main floor close to the stage. We didn't know we were both there until we ran into each other as we exited, at which point, in a whisper of his normal voice, he shared one of the most incredible concert experiences any friend has ever told me, even 50 years later.
I won't spill the beans about Keith's Elton moment, hoping he'll get a chance to write that story himself between now and our Reunion. But, if he doesn't have the opportunity to do that, it will be a story you'll definitely want to ask him about when we gather for the 50th Anniversary Reunion of Aiken '71 at Centennial Barn on Nov 6.
--Geoff Mayfield
Tickets can be purchased on the TICKETS page of the reunion website, where you can pay by check (using mailing instructions provided at checkout) or by credit card. Check is preferred, by the way, since it saves us the processing fee. Cost is $60 per person, and includes old friends, live music, catered dinner and cash bar. If you have any trouble ordering, give website administrator Keith Brown a call at 513-602-5544 for friendly assistance!
For the latest news on the event, classmate profiles, messaging registered alums, or to buy tickets, please visit the reunion webpage.